Top Picks
Electric Kettle
&nbspUpdate: October 2020
Morphy Richards Instacook (1L) - Best Versatile Kettle

POWER
1000W

CAPACITY
1L
MATERIAL
SS

FORM FACTOR
Cooker
WARRANTY
2 Years
Morphy Richards being a very reputed brand have come out with this excellent electric kettle. This kettle is versatile and can be used for boiling water/tea/egg/vegetables and as well as cooking noodles, pasta etc. It comes with plastic vessels and grills for cooking purposes. It also sports a 6 pre-set temperature for heating exactly to your needs and requirement.
The design is very ergonomic and the handle is very well built. Pouring was well controlled, thanks to the handle design. The kettle body is well built with brushed SS material. It comes with a fibre glass lid which will enable us to see the contents from top when boiling.
PROS
6 Pre-set Temp. Setting
Keep Warm Function
Easy to Clean
Multipurpose
CONS
Suitable Upto 1 L
2000*
Philips HD9329/06 (1.7 L) - Best Water Heating Kettle

POWER
1920W

CAPACITY
1.7L
MATERIAL
SS(Insulated)

FORM FACTOR
Jug
WARRANTY
2 Years
Here comes Philips the brand that we all know who has been in India through ages. This kettle is excellent if your main purpose is to boil water/tea and some occasional extra stuff like boiling eggs. If your requirement is to serve many people as this has a big capacity of 1.7L. Kettle comes with an insulated body so that you do not feel the heat after the contents are heated. Kettle's main features being its good looks, great build and awesome design.
As marketed, the design, build and looks is just great. Has a lustrous shiny red body. The keep warm feature holds water for around 4hrs. The lid does not open full 90 degrees which will make cleaning the kettle a bit difficult. This is the normal issue with Jug type kettles as cleaning them will require extra effort than the cooker forms.
PROS
Good Looks
Great Build Quality
SS Insulated Body
CONS
Difficult to Clean
2800*
Philips HD-9303/02 (1.2 L)

POWER
1800W

CAPACITY
1.2L
MATERIAL
SS

FORM FACTOR
Jug
WARRANTY
2 Years
One more from Philips again. This kettle is ideal for fast boiling. Buy this if you need to get quick results i.e. hot water quickly. The kettle boasts of a steam sensor which is a new feature in new kettles.
The kettle has decent build quality and has all the basic features to start with.
PROS
Fast Boiling
Steam Sensor
Decent Build Quality
CONS
Difficult to Clean
2300*
Black + Decker BXKE0103IN (1 L, Grey)

POWER
1200W

CAPACITY
1L
MATERIAL
SS

FORM FACTOR
Jug
WARRANTY
2 Years
Black + Decker is a German Brand which specializes in electrical appliances. This kettle has an SS Body with a 1L capacity. It is good if you are a one or max three person family who would like to usually boil water or have tea.
The kettle comes with a water level making inside the body and hence you will have to look from top to see the level. With SS Body, 2 years warranty and all the important features like auto cut-off, dry boil protection; This kettle would appeal to those who want basic features at an affordable price.
PROS
2 Years Warranty
Value
CONS
Low Capacity
1300*
PRESTIGE Steel Kettle (1.5L) - For Cheapest Option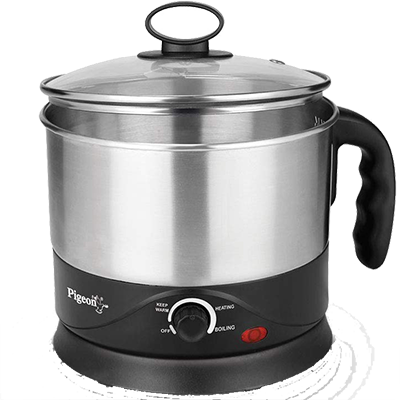 POWER
1500W

CAPACITY
1.5L
MATERIAL
SS

FORM FACTOR
Jug
WARRANTY
1 Years
This is our value pick coming from Prestige, which is a well known Indian Brand. This kettle is powered by a 1500W heating element and has a 1.5L capacity. It comes with all basic important features like a 1 Year Warranty, auto-cut off. Has a nice spout design.
We saw that the kettle is very light but the body is very delicate and has to be handled with care. Any impact could damage the body. With a price tag under Rs.750, this kettle would appeal to people on a low budget who just want to keep it simple by boiling water.
PROS
Cheap
Stainless Steel
CONS
Delicate
740*